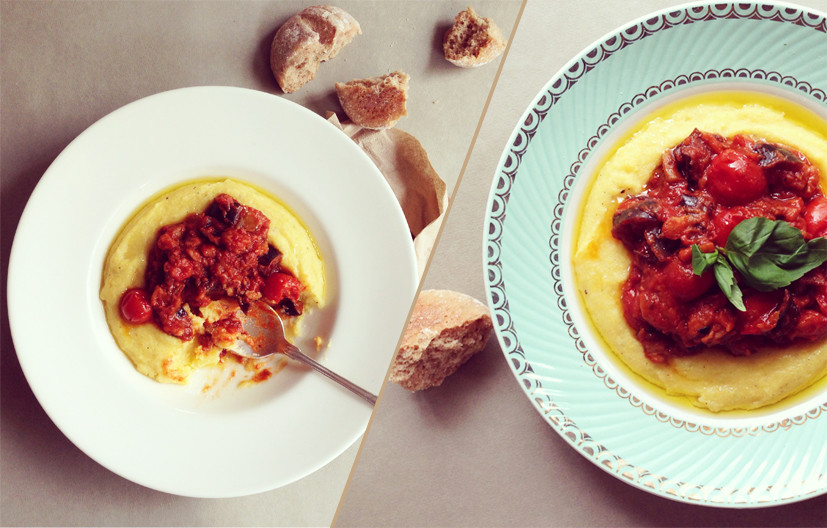 In Italy, originally, the polenta was spread out over the table before the sauce was poured on top of it. The whole family ate the polenta of the table with only a spoon. Unless you like cleaning it yourself spot*less*ly, don't try this at the Amstel. But fortunately, this easy backpacker recipe tastes just as good on plate!
Ingredients (serves 2)

For the sauce
1
 cup vegetable oil
1
 medium eggplant, cut into 3/4-inch dice
2 
teaspoons tomato paste
¼ 
cup dry white wine
1
 cup chopped peeled tomatoes (fresh or canned)
5 
tablespoons water
1/4
 teaspoon salt
1/4
 teaspoon sugar
1
tablespoon chopped oregano (or use dried)
How to?
Heat up the oil in a large saucepan and fry the eggplant on medium heat for about 15 minutes, or until nicely brown. Drain off as much oil as you can and discard it. Add the tomato paste to the pan and stir with the eggplant. Cook for 2 minutes, then add the wine and cook for 1 minute. Add the chopped tomatoes, water, salt, sugar and oregano and cook for a further 5 minutes to get a deep-flavored sauce.
For the polenta
125 gr polenta
125 ml water or milk (for more creaminess)
20gr butter
Salt tot taste
Parmesan cheese (optional but very recommendable)
Bring the water/milk to boil and add the polenta. Keep on stirring until the polenta turns into a thick 'porridge'. Take of the fire and add butter, salt and Parmesan.
Serve on a plate and pour the sauce on top of it. Tastes great with some basil leaves and pine nuts or almonds on top.