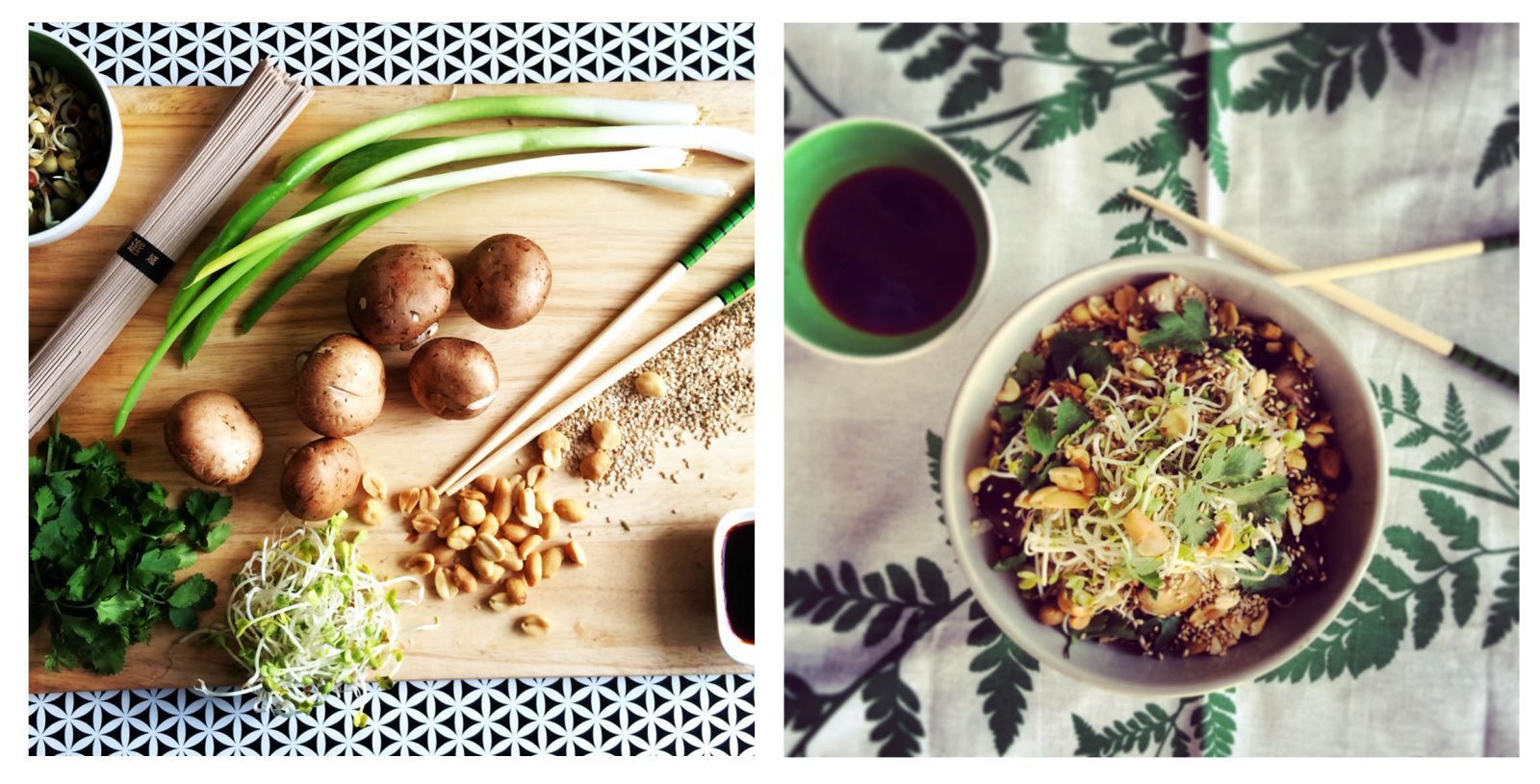 Instant noodles, cornflakes and canned hotdogs are probably the most common easy backpacker meals you'll spot in a hostel kitchen. Here's a new idea. Forget about your 'just add water-noodles'. You can do better than that! Noodles are cheap, really simple to prepare and you easily turn them into a healthy meal. They're quick as well, imagine that it will take as long as Mr. Scruff's Fresh Noodle song to prepare them.
We substituted normal noodles for buckwheat noodles, because buckwheat is energizing, nutritious, and a good source of magnesium and fibers which makes this dish a perfect base for a night out.
Ingredients (serves 2)
200 gr buckwheat noodles
2 hands full of mushrooms (shiitake or any other kind of mushrooms, shitake or any
1 tbsp olive oil
Seasalt and pepper to season
150 gr taugéor bean sprouts
2 spring onions, chopped
20 gr. fresh coriander, chopped
Hand full roasted peanuts
Peanutbutter dressing
2 tbsp peanut butter
1 tbsp tahini (optional)
1 tbsp water
1 tbsp soy sauce
1 tbsp olive oil
1 tsp honey (or sugar)
1 garlic clove, chopped
little piece of grated/chopped ginger
1 tsp chilipepper, fresh and chopped, or flakes
How to…
1. First of all, combine all the ingredients for your dressing in a bowl and whisk well.
2. Cook your noodles shortly as you want to keep them al dente and not fluffy. 3 Minutes should be enough. Drain and let them cool down a bit.
3. Bake your mushrooms in olive oil and with a bit of soy sauce.
4. Now mix your noodles with the mushrooms, spring onions, taugéor bean sprouts and the dressing.
5. Serve topped with the chopped coriander and roasted peanuts.