One of the most classic backpacker's routes in Europe is the Berlin-Amsterdam. Bike lovers, gay friendly, young and famous for their night lives these two cities not only attract the same kind of travelers, but are also very close to each other, making the package irresistible. In addition to all that the Amstel House keeps a special connection with the capital of Holland: besides belonging to two Dutch guys we also carry the name of the river that crosses Amsterdam.
So we decided to dedicate an entire Post to this city we love and relate so much to. Heading from Berlin to Amsterdam? We have great tips for you.
1- Book your hostel in Advance
Amsterdam is one of the top tourist destinations worldwide and the best and better located hostels are usually quick booked out. Searching for accommodation upon arrival will not only eat some of your precious tours and adventures time, but can also be a big risk.
Two cool places to stay are the Shelter Hostel Amsterdam, elected two years in a row (2015 and 2016) by Hostelworld the "Most Popular Hostel in Amsterdam". Both Shelter City and Shelter Jordan are located in the city center, surrounded by charming streets, typical Amsterdam canals, and lovely detailed buildings that tell of the city's rich history. Besides, since the Hostel is a non-profit organization, staff members work on a volunteer basis, doing just an exactly what they love to: make you feel at home.

2- Shop 'till you drop
If you want to treat yourself with a stylish set of clothes or some fashionable accessories, Amsterdam is the place for you. Shopping in Amsterdam can be quite an experience. Right at the doorstep of the hostel Shelter Jordan you can find the famous and chic 'Nine Streets'. Every store in this neighborhood breathes vintage trendiness. For more casual shopping you can go to the Kalverstraat, or you can look for the rich and famous on the P.C. Hooftstraat.
3- Rent a bike
Amsterdam is famous for its love of biking. It is by far the cheapest and most efficient means to get around if you don't want to walk. Traffic might be intimidating at first, but it doesn't take long to fall in love with the classic, characteristic Dutch two-wheelers.
4- Tour the canals

You don't want to leave Amsterdam without having experienced a canal tour. Especially considering that there are more canals in Amsterdam than in Venice!
5- Museums, museums, museums
Alright, this part could well be a never-ending story, as Amsterdam has so much to offer in this respect. Internationally renowned museums, such as the Van Gogh museum, the classic Rijksmuseum, or its contemporary counterpart the Stedelijk Museum, are must-sees if you have a love for art. The gripping Anne Frank House lets you peek inside the life of a Jewish teenager in hiding during WWII. You can also visit the Tropical Museum to brush up on Dutch colonial history, or the Heineken Experience for a tour of one of the world's most famous beer brands. There are many more museums to find in the city as well.
6. Walk a park
Though it is a major city, Amsterdam has put a lot of effort into staying green. There are several parks to relax, stroll, and picnic in. The Vondelpark has always been a city favorite, joined by the Rembrandtpark and the lovely Sarphatipark. Throughout the year, several festivals are hosted in these parks as well.
7. Stroll the markets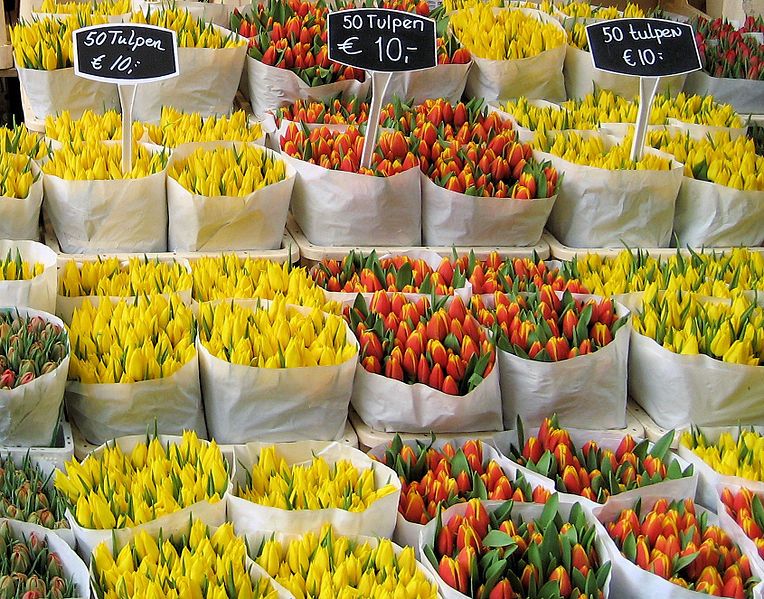 Markets are a great way to gain a sense of Amsterdam as a multicultural city. It is the perfect opportunity to taste, smell, and see everything characteristically Dutch. From warm stroopwafels (waffles with caramel syrup!) to Vietnamese egg rolls, salted herring to Surinam delicacies and Gouda cheese to Turkish kebabs. Visit the Albert Cuyp Market to stack up on souvenirs, the Dappermarkt for multicultural cuisine, the Waterlooplein Flea Market for bargains, and the Flower market for tulips.
8. Visit a church

Whether it's Sunday or not, whether you're religious or not, churches are a place of wonder and history in every city. Amsterdam is no exception! The impressive Nieuwe Kerk on Dam Square has traditionally been the host of royal weddings and inaugurations. Admire the architecture of the Oude Kerk or climb the characteristic tower of the Westerkerk. Don't skip the Our Lord in the Attic church; a hidden gem near the Red Light District reminding the Protestant city of its Catholic past.